I grew up in a beautiful island where we live 10 minutes bike-ride away from the beach. But truth be told, I don't know how to swim. I've developed a certain animosity towards swimming after an unfortunate pool incident back when I was taking my swimming class in college. (For some mind-boggling reason, though, I passed the subject.)
When I started traveling and got the chance to see the best beaches in the Philippines, I've been handicapped not to cross the borderline of the shore and the sea unless a life-jacket is strapped around me. And since swimming and I aren't exactly friends, I've always thought that I couldn't enjoy surfing, snorkeling, diving and some other water activities.
Despite this, I feel so drawn to the sea that it has become my refuge each time I feel high or low (emotionally). And just recently, I have fallen in love with diving and snorkeling.
Here's what I learned: You don't need to be a pro swimmer to be able to dive and snorkel. You only need the proper gears, do proper breathing, and get a full sense of adventurous spirit. :)
Magnificent dawn at Apo Reef Island with the calm sea and the changing hues of the sky
I've been to some amazing diving and snorkeling spots in the country, but the underwater treasures of Apo Reef and Pandan Island are two of the best that I've seen so far. I found myself frolicking in its massive and diverse underwater garden when I went there. Everything down here awed me.
Apo Reef Natural Park is the largest atoll-like reef in Asia. Some of its dwellers include colorful fishes, schools of jacks, snappers, stingrays, manta rays, sharks, barracudas, crevice-dwelling moray eels and gobies amid gardens of soft and hard corals. Also, the 29-hectare Apo Island is a nesting ground for hawksbill and green sea turtles while the other two islets near it are home to migrating birds and some resident birds like the endangered Nicobar Pigeon. *Information from Sablayan Municipal Tourism Office*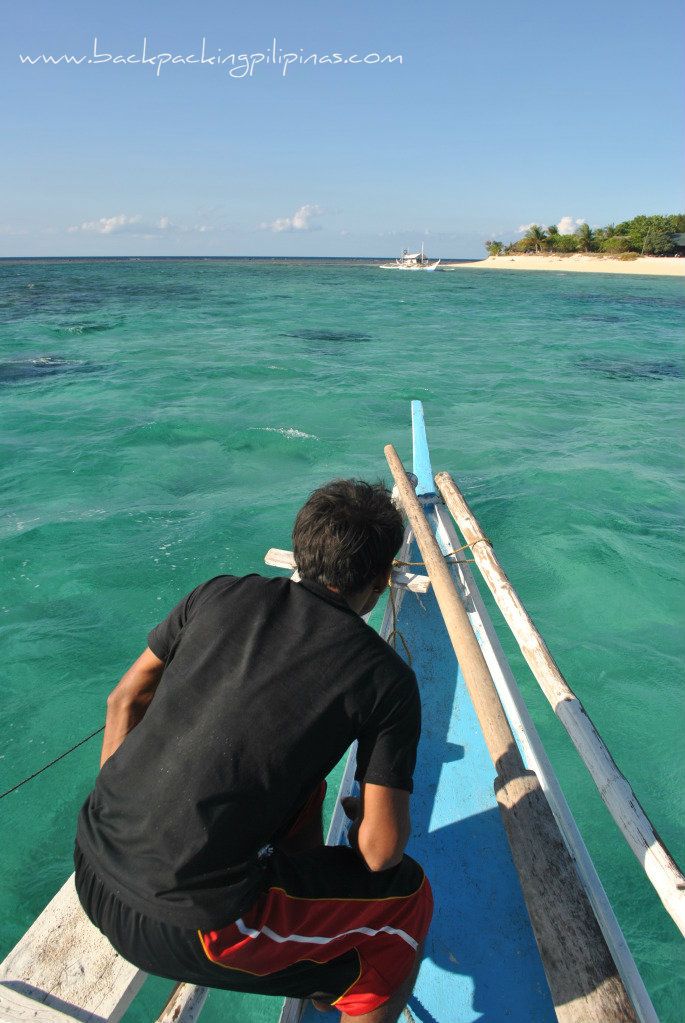 The crystalline blue-green waters greeted us as we pushed towards the island
For those planning a trip to Apo Reef, I recommend that you contact the Municipal Tourism Office of Sablayan.
The staff could arrange your transportation and assign guides and cook. They also offer rentals for tents and snorkeling/diving gears.
Here's a link on how to get from Manila to Sablayan, Occidental Mindoro.
From Sablayan Sea Port, it takes about 2hrs boat ride going to Apo Island. According to our guide, there are times when pods of playful dolphins could trail from behind and chase the boats enroute to Apo Reef. It would have been an awesome visual treat but unfortunately, we weren't so lucky during the trip.
Once at Apo Reef Island, we got our accommodation ready. And by that I meant, tents. Yes, we were there to camp. There are no hotels or cottages for overnight stay so I highly suggest you bring your own tents, mats or hammocks. For food, we bought provisions from Sablayan Public Market and sought the help of our guides to cook our meals since we didn't bring utensils with us. *The food they served us were great, by the way.* :)
For P1,500 each, we got to enjoy the reef by signing up for an introduction to diving course that was good for 1 full hour. I was assisted by a master diver and I got lucky to have about 40-minute of assisted dive at about 50ft!! It was such a priceless experience.
What I saw down there? Check this link.
In summary, we spent most of our time in the island out in the sea, snorkeling, diving, and just swimming to our heart's content!
Other activities that could be done in the island include trail walk along the mangrove area leading to the lagoon and the lighthouse. I suggest you wait for the sunset and sunrise atop the lighthouse. The view of the vast expanse of the clear blue waters in contrast to the verdant mangroves below the lighthouse was gorgeous!
This is a view of the lighthouse seen from the lagoon
Apo Reef Lighthouse
The mangroves and the lagoon as seen from the lighthouse
Bamboo path walk along the massive mangrove area
Our group also had bonfire and let off eight wish lanterns under the beautiful and starry November sky. FYI though, we used a tray to hold the flaming twigs and woods. I highly suggest using a tray when doing a beach bonfire instead of directly starting the fire on the sand. Let's protect our beaches. :)
Our version of "Tangled". True that it could be magical to see the lanterns flickering up in the air. But this is one activity that could be regulated for environmental reasons. Maybe, it would be better to use eco-friendly wish lanterns in the future.
Heads up to those planning a trip to Apo reef, please keep the cleanliness within the area. As I always say in every beach I go, leave nothing but footprints. If you can carry your spoils back to the mainland (and dispose it properly), so much better.
One of the best memories I took home from this trip is the chance to see and play with the amazing underworld creatures. It made me realize how amazing our world is, from the surface and even deep down under. :)
A souvenir photo from the underworld
Side Trip: Before heading back to Sablayan, our group decided to stop by Pandan Island for a closer encounter with sea turtles and manta rays. And we were never disappointed. I had the chance to chase four sea turtles and a manta ray. The experience was one for the books! I would definitely recommend including Pandan Island in your itinerary if you plan to go to Apo Reef.
Fees (Overnight stay):
Boat from Sablayan to Apo Island VV - P7,500 (7 pax)
Boat from sablayan to Pandan Island VV -P800
Food catering/labor- P750
Tour guide- P750
Equipment Rentals
Snorkels - P100
Tent - P300
Entrance Fee (per pax)- P225
Contacts:
Municipal Tourism Office
Buenavista, Sablayan, Mindoro Occidental 5104
Contact numbers: 0929-428-0431, 0915-995-3895